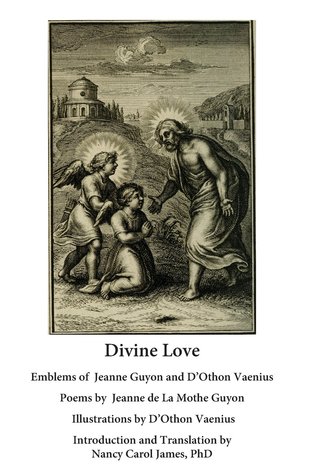 These emblems of Divine Love connect spiritual drawings with poems to reveal the depths of God's love. In her poems, Jeanne Guyon (1648-1717) writes an open conversation with God, while D'Othon Vaenius' (1556-1629) beautiful engravings portray divine love engaging with the human soul.The artist D'Othon Vaenius published these famous and popular engravings in 1615. Vaenius was a leading art teacher in Antwerp and had Peter Paul Rubens among his students. Vaenius drew these images showing the relationship between Divine Love and the human soul, called Anima.

After seeing D'Othon Vaenius's images, Jeanne Guyon wrote poems that she connected with each one of these drawings. In these poems, Guyon's words soar as she addresses God directly, speaking from her heart to the divine heart.
​
Because of her Christian faith, Guyon had been incarcerated for ten years, including 5 years in the Bastille. She carried this book on Divine Love into the Bastille. In 1703 the state authorities completely exonerated Guyon, who then spent the rest of her life writing and giving spiritual direction to people from around the world.

Jeanne Guyon writes about her relationship with God in a poem from this book.

"Flow, divine water, through the mouth of my heart;
I find in you all that I desire,
You quench my thirst.
I love nothing in the world.
The more I drink you, the more I burn for you.
Fire all divine, source of all fruitfulness,
I taste in you unspeakable goodness."

The emblems of D'Othon Vaenius and Jeanne Guyon offer a detailed visualization to us of what Divine Love would feel and look like. Through their work we remember Divine Love, a preoccupation of the seventeenth century, that reaches out to remind us—to awaken us to the magnificent reality of love offering a balm to our wounds, courage to meet our challenges, and a fragrance to our relationships.
​
In this first English translation of this book, these emblems of divine love become available to post-modern readers. These emblems created by D'Othon Vaenius and Guyon symbolically represent spiritual meaning and, as such, offer a gift of revealed strength and purpose to the aware reader. In our age when love seems almost forgotten, this emblem book uniting Guyon's poetry and D'Othon Vaenius's illustrations give us a long and ravishing look into what might be. What if Divine Love becomes part of the human endeavor and joins to human souls? D'Othon Vaenius and Jeanne Guyon took this hope into their own souls and reveal to us their vision of the love of God bonding and becoming one with the human soul.
---